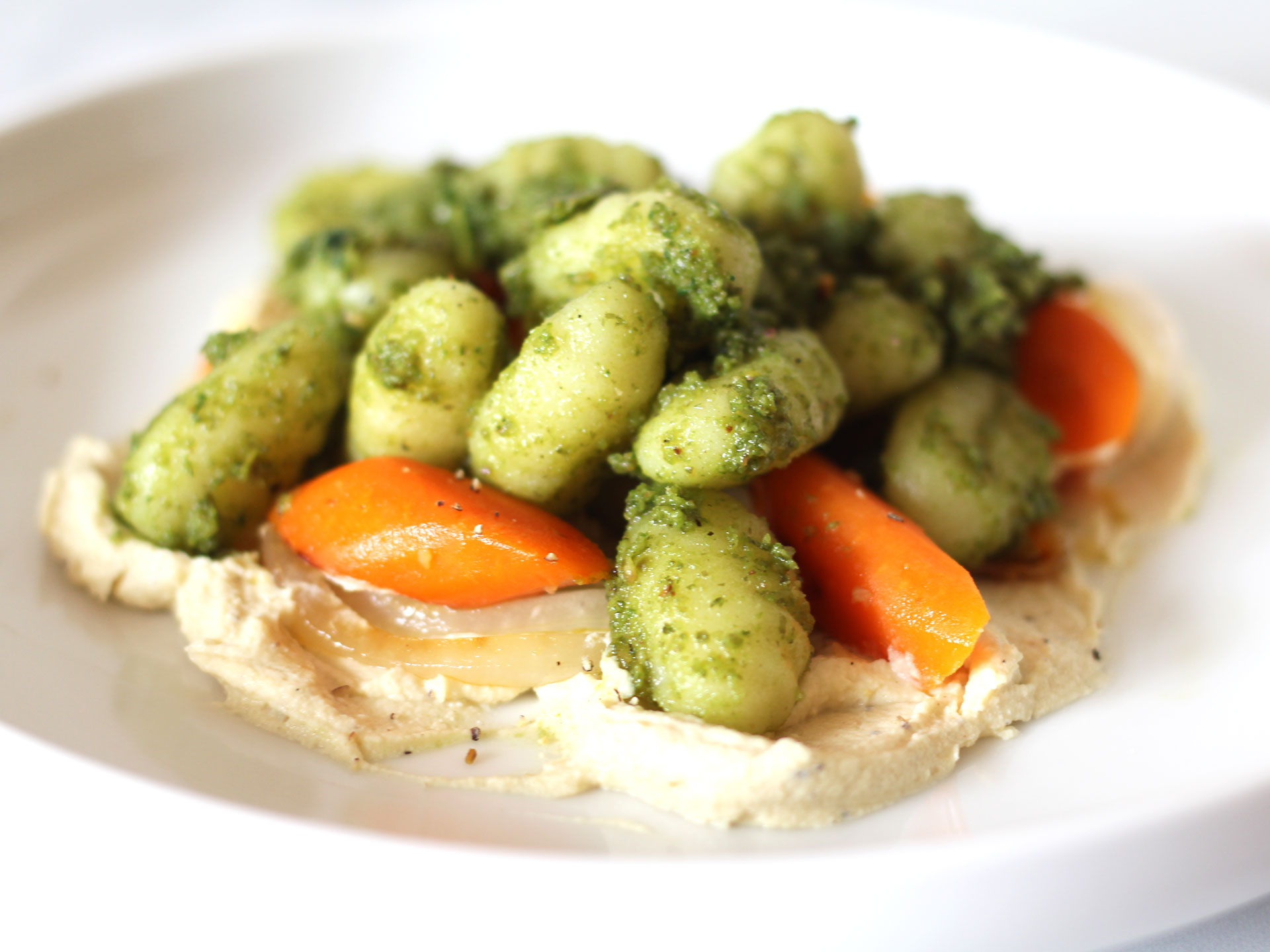 I revisited this recipe we made a little over a year ago and it was more delicious than I remember. I didn't have baby carrots so I cut my large carrots at a diagonal. This type of cut makes the finished dish look pretty. Did you know you can eat tomato plant leaves? I didn't have any carrots greens but I do have a ton of tomato leaves in my garden so I picked a dozen large leaves and added them to the pesto. The tomato leaves are very mild and create a beautiful green pesto.
Print
Pan Roasted Carrots with Caramelized Onions, Gnocchi, Herb Pesto and Whipped Ricotta
This recipe would also be good with fire grilled carrots and onions tossed in the herb pesto. Don't coat the carrots or onions with oil before grilling – the oil burns off and doesn't taste good. Use a lot more pesto with the grill version.
Author:
Prep Time:

20

Cook Time:

40

Total Time:

1 hour

Yield:

4

Servings

1

x
Ingredients
1

package of gnocchi, cooked according to package instructions
Extra-virgin olive oil

1/2 cup

pepitas, lightly toasted

1

bunch young carrots – about

1

pound

2

–

3

cups mixed herbs (cilantro, mint, basil, parsley, dill, carrot greens)
zest from

one

lemon

2 tablespoons

fresh lemon juice, more to taste
green tabasco

3 tablespoons

capers, drained
Real salt and fresh ground black pepper

1

medium onion, halved and sliced thin

4

cloves garlic, peeled and sliced thin

1/2

recipe of whipped almond milk ricotta
Instructions
Bring a pot of salted water to a boil. Cook gnocchi according to package directions. When done, drain and toss with some olive oil to keep from sticking together. Set aside.
In a dry skillet, toast the pepitas stirring often until fragrant and starting to brown. Transfer to food processor and pulse into a fine meal.
If your carrots came with fresh and beautiful greens, cut them from the carrots, clean, and strip the leaves from the stalks. Place carrot top leave with other herbs, lemon zest, lemon juice, 4 or 5 dashes of tabasco, and capers. Blend until smooth. Add 1/4 teaspoon salt, 10 – 20 grinds of black pepper and 1/4 cup olive oil. Blend until smooth. Taste and add salt, pepper, or lemon juice as needed.
Heat a large cast iron skillet over medium heat. Place the carrots in a single layer and cook until a little char forms – about 5 minutes on each side. Carefully add 1 – 2 tablespoons of olive oil. This may splatter – lower heat if necessary. Roll the carrots around to coat with oil. Season with a pinch of salt and a few grinds of pepper. Cook until carrots are almost tender – about 20 minutes.
When carrots have about 15 more minutes to cook, add the sliced onions and garlic. Stir into the olive oil, adding more if needed. Cook until onions are caramelized and carrots are tender – about 15 minutes. Turn off heat and let carrots cool slightly before moving to a bowl. Toss with several tablespoons of the herb pesto – carrots should be well coated.
Return pan to heat with another tablespoon of olive oil. Add gnocchi to the pan and brown each side – about 5 minutes. While browning gnocchi, divide the whipped ricotta between 4 plates and spread it around a bit. Place carrot onion mixture on top of the ricotta.
When gnocchi is browned, transfer to bowl that the carrots were in. Toss with 2 – 4 tablespoons of the herb pesto. Divide the gnocchi between the serving plates. Finish each plate with a few grinds of black pepper and a pinch of salt. Add more herb pesto if needed.